Going from start to oven only takes about 10 minutes, tops!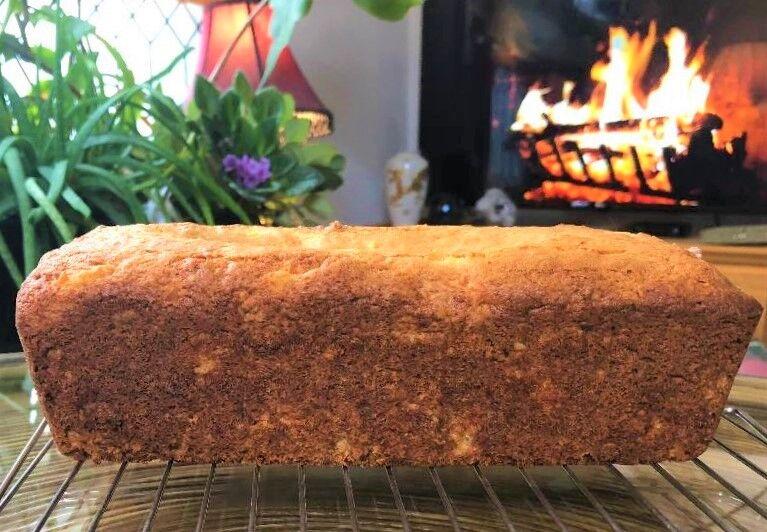 Pineapple Walnut Bread is a perfect pick-me-up for a cold, winter day.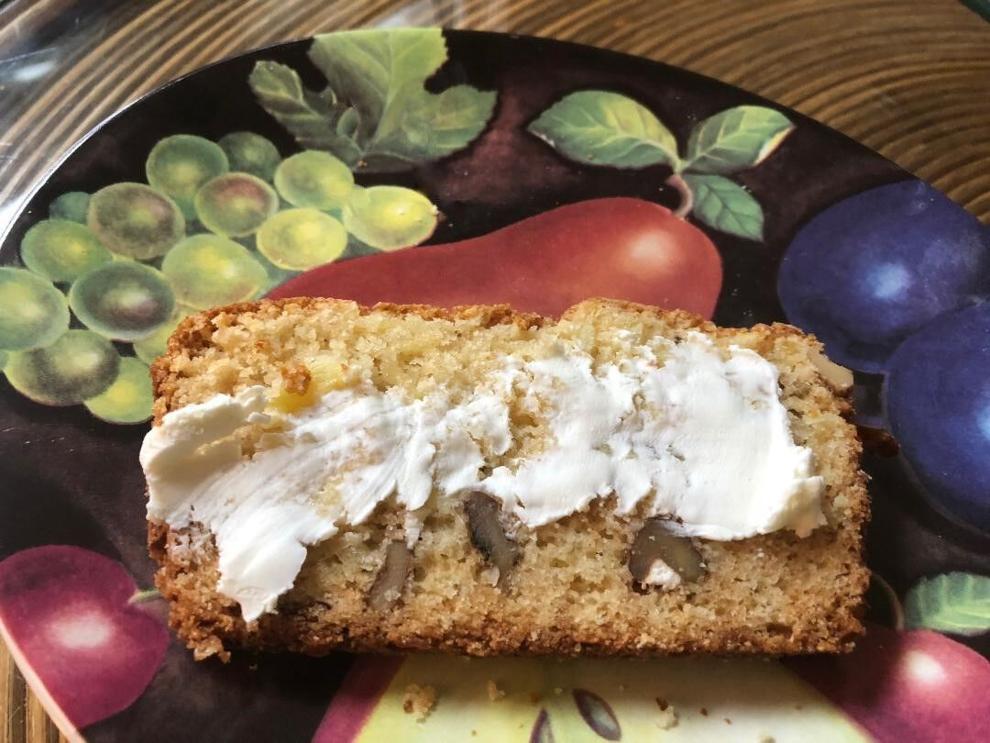 For an extra taste treat, smear on a little cream cheese - plain, or with a little sugar beaten in for a sweeter treat
As for the finished product, besides smelling really heavenly, it really is pretty tasty!  I found that I particularly liked it with some softened cream cheese spread on top, and for a sweeter taste I may even beat a little sugar into the cream cheese next time – or add a bit more to the batter/dough.  Overall, this is a flavorful, fruity loaf, and the walnuts give it just the right amount of added texture and flavor.  And as a bonus, it came out of the oven kind of crusty on the outside, so I recommend cutting it with a serrated knife if you want pretty slices.
And that's pretty much it!  Just measure, beat a bit, stir, bake, eat.  Even a child can do it.  Literally.  And the flavor – and aroma – will delight the child in anyone. Plus it will make a perfect hostess gift as it travels well – if you can manage not to devour it the minute it comes out of the oven!  Enjoy!  
---
Pineapple Walnut Bread  
Prep: 10 mins    Cook: 1 hr    Servings:  12


2 eggs


1 ¼ Cup white sugar


½ Cup melted butter


1 Cup crushed pineapple with juice


¾ teaspoon vanilla extract


2 ½ Cups all purpose flour


3 teaspoons baking powder


½ teaspoon baking soda


¾ teaspoon salt


¾ Cup chopped walnuts


Preheat oven to 350 degrees F.  Grease one regular loaf pan
Slightly beat eggs, then add butter and sugar and beat until smooth.  Stir in pineapple and vanilla extract.
Measure flour, baking soda, baking powder, salt and walnuts into a separate bowl.  Stir together thoroughly, then pour and stir into pineapple mixture.
Beat eggs slightly. Add butter and sugar. Beat smooth. Stir in pineapple and vanilla. Transfer to prepared loaf pan.
Bake at 350 for 1 hour.  Test with toothpick.  When done, let stand in pan for 10 minutes, then remove to cooling rack until completely cool.
---
Look for Queenie Cooks every week online and in the Sussex Surry Dispatch and other local papers  for food-related recipes, stories, information, and fun.  You never know what Queenie may be cooking up, but you can always count on at least one great recipe to try at home, generally for something you can prepare quickly, easily, and with just a  few, common ingredients. Hey!  We all have to eat. Let's have some FUN with it!  
Copyright 2019 by Womack Publishing